200 Years – 200 Years (2011)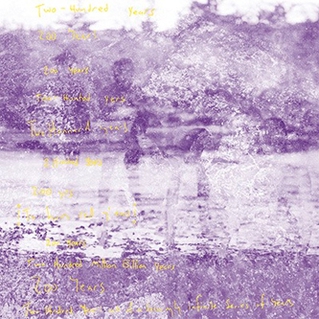 200 Years – 200 Years
Location: Hartford, Connecticut, USA
Album release: 2011
Record Label: Drag City
200 Years is duo comprised of Six Organs of Admittance's Ben Chasny and Magik Markers' Elisa Ambrogio, and together they draw on the quieter echoes of their other projects to create a charming new hybrid.
Music fans like to engage in speculative match-making, imagining what one distinctive artist might sound like in collaboration with another. In real life, of course, such collaborations have a notoriously checkered history. Yet there are still instances when the artists in question present a match too tantalizing to resist, and 200 Years is one such example. The duo is comprised of Six Organs of Admittance's Ben Chasny and Magik Markers' Elisa Ambrogio, and together they draw on the quieter echoes of their other projects to create a charming new hybrid.
It helps that Chasny is an old hand at just this sort of collaboration, and a bit of a chameleon besides. In addition to his gigantic Six Organs of Admittance catalog, he has been a member of noise rock troupe Comets on Fire and improv units Rangda and Badgerlore, and his endlessly creative guitar work has been a welcome presence everywhere it has turned up. Each has served as a touring musician for the others' main gig, and Chasny and Ambrogio previously collaborated with Mouthus' Brian Sullivan in the noise-drone Basalt Fingers, but there is nothing from that trio that anticipated the hushed, song-based style of 200 Years.
The biggest surprise on 200 Years is Ambrogio and the gentle, almost demure performances that she delivers throughout the album. Though her work with Magik Markers has usually been distinguished by the wide-ranging ferocity of her vocals, there have been glimmers of her quieter side on such studio albums as BOSS and Balf Quarry. Still, it is unexpected to hear her sing so softly at such length, with her voice providing a natural foil for Chasny's predominantly acoustic guitars. At times she recalls the solo work of Barbara Manning or Lois Maffeo, a fact that would be astonishing to anyone only familiar with Ambrogio via one of Magik Markers' feral live recordings.
Consisting almost entirely of voices and guitars, there is an ageless quality to 200 Years. The album is bookended by its two most immediately mesmeric songs, "Wild White" and "More Than Alive", both of which are sturdy, melodic gems that could seemingly translate into any idiom. Here they are given the simplest possible treatment, riding along only on the interplay of Ambrogio's voice and Chasny's expertly filigreed guitar lines, the production so intimate that it feels like eavesdropping on a private conversation.
Elsewhere, as on "Partin Wayz" or "Thread", the duo adds discreet electric guitar effects or a quietly droning harmonium to the mix, always with the lightest of touch. None of these effects will shock those familiar with Chasny's previous work, and in its drowsier patches 200 Years can seem to be merely a Six Organs of Admittance tape with female vocals placed overhead. Which is hardly a bad formula in itself, but it might disappoint those hoping for more in the way of improvisational fireworks. On "Bees" Ambrogio does deliver what sounds like a front porch version of her Magik Marker lyrical cascade, with her words casually spilling out just as quickly as she can enunciate them.
The most impressive aspect of 200 Years, especially considering it as the debut of a new collaboration, is its overall aura of cool confidence. Chasny and Ambrogio are clearly two talented musicians with a wide variety of tools at their disposal, yet to their credit they don't feel the need to try and show every trick at once. Instead they show an innate sense of trust in one another and in this resonant collection of songs, secure in the knowledge that this should be plenty.
Pitchfork Review by Matthew Murphy; November 9, 2011
Website SOoA: http://www.sixorgans.com/
Guitarist Ben Chasny performing with Sir Richard Bishop and Chris Corsano (not shown) at the Sunset Tavern in Ballard, Seattle, Washington, USA. / Author: Joe Mabel / September 12, 2009
Biography by Heather Phares
Experimental rockers the Magik Markers formed in Hartford, CT, in 2001, featuring guitarist/vocalist Elisa Ambrogio, drummer Pete Nolan, and bassist Leah Quimby. Inspired by no wave and hardcore, the Magik Markers crafted a free-rocking sound that made the most of their stream-of-consciousness approach. The band made CD-Rs available at its shows and eventually caught the ear of Thurston Moore, who invited the group to play on Sonic Youth's 2004 American tour. Moore's Ecstatic Peace label co-released the band's album I Trust My Guitar, Etc. with Apostasy Recordings in 2005. The Magik Markers were prolific in 2006, releasing The Volodor Dance (an installment in Southern Records Latitudes series) and A Panegyric to the Things I Do Not Understand (on Gulcher Records). That year, Leah Quimby left the group, and after auditioning several replacements, Ambrogio and Nolan decided to continue as a duo. On 2007's Boss, the pair worked with Lee Ranaldo, who produced the album and chipped in guitar and glockenspiel parts. They moved to Drag City for 2009's Balf Quarry, which found the band moving in a subdued but eclectic direction.

Photo: E. Jason Wambsgans
Elisa Ambrogio of Magik Markers performing live at Death By Audio, Brooklyn. Author: Joly MacFie
 Pete Nolan of Magik Markers performing live at Death By Audio, Brooklyn on Oct 1 2007. / Video still from PUNKCAST#1206 / Credit: punkcast
---
News & Actualities
News & accesories
Happening
Music. Warmth people. Good songs.Delight in female voice.YOU!
Kaki King