Cat. N° 2 - Band  (Part III.)
Quite Quiet
Quite Quiet je pražské folkové trio vedené původně chomutovským písničkářem Kubou Alexou. Kapela vznikla na jaře 2005 po rozpadu Alexovy předchozí skupiny Only..., kdy Alexa začal zkoušet s tehdejším baskytaristou skupiny Toneless Tomášem Srovnalem. Ještě jako duo natočili eponymní debutové ep Quite Quiet. Ihned po vydání desky - na podzim 2005 - se připojil bubeník Dan Dyk, se kterým roztočili v létě 2006 druhé ep. Na podzim roku 2006 do kapely přichází bubeník Petr Odstrčil, koncem roku 2007 Alexa a Srovnal domíchávají a vydávají roztočené ep pod názvem Lovers & Survival & Self-destruction... .
http://bandzone.cz/quitequiet
Quite Quiet vznikli na jaře 2005 jako duo Tomáš Srovnal (baskytara) a Kuba Alexa (ak. kytara, zpěv).
koncem léta  2005 vzniká první ep natočené v duu a ke kapele se přidává bubeník Dan Dyk. v létě 2006 se tato etapa uzavírá nahráváním dalšího ep, které ale zůstává nedokončeno. qq jsou k vidění jako support Glena Hansarda a projektu Swell Season v Arše nebo Jamese Harriese, odehrají společné koncerty s The Slots, Living Room, Obří Broskví, ...
ep quite quiet / 2005
http://www.musiczone.cz/recenze-1320/quite-quiet-quite-quiet
ke kapele se připojuje v létě 2006 bubeník Petr Odstrčil. kapela s kratšími i delšími pauzami koncertuje v ruzných sestavách a roztočené ep kuba s tomem dokončují na podzim 2007 a pod názvem lovers & survival & self-destruction vydávají 12.12.07. qq vystupují jako support khoiby a absolvují společné koncerty s  miou-miou, photolab atd. 
ep  lovers & survival & self-destruction .. ( human ways to run away from, live through and understand the truth ) / 2007
http://www.freemusic.cz/clanky/6052-quite-quiet-lovers-a-survival-a-self-destruction.html
quite quiet jsou stále k vidění v ruzných koncertních sestavách a na eps a koncertech se  objevili s hosty jako a.m. Almela (ex-roe-deer, photolab), Honza Skovajsa (ex-hrnce z kredence), Michael Kyselka (ex-hookers), marquet (basta fidel), Pavel Bureš (t.č. 5th april), na ep l&s&s-d přispěli remixem i Bugman, Amak (sunshine) a Peter Binder, který se postaral o mix ep.
koncem roku 2008 se s quite quiet loučí  Petr Odstrčil, dohromady nahrávají ještě dvě skladby, které by se měly objevit koncem ledna 2009. o nahrávání se starali Risto Sokolovski a Yarda Helešic, o mix a koprodukci Filip Gemroth (Toneless). kapela začíná zkoušet s bubeníkem Cyrilem Kaplanem (Vložte Kočku).

we are the same/even in these lines - single - 03/2009
download
V druhé polovině roku 2010 se díky časovému vytížení některých členů  quite quiet definitivně stávají nestálým a proměnným seskupením a můžete je vídat v různých sestavách se stálými i občasnými hosty.
speciální díky za podporu v začátcích patří Petru Vlasákovi, Kateřině Václavkové a Standovi Zimovi.
můžete nás vidět a slyšet ve více sestavách s hosty apod.:

Kuba Alexa - ak.kytara, zpěv
Tomáš Kubín - klapky
a.m. Almela - kytara
+ ...
tak jsme nahravali, tak tady neco malo pred finalnim mixem ...
http://www.youtube.com/watch?v=8RsfZr93bfc
http://www.youtube.com/watch?v=IfA6M9Ursw4
Nejbližší koncert této skupiny je 7. ledna 2011 v Klubu A Studio Rubín, Praha 1. Společně s Viki.
---
2Wings
Genre: Alternative / Psychedelic / Rock
Record Label: Pop Dissident Records
Location: Prague, CZ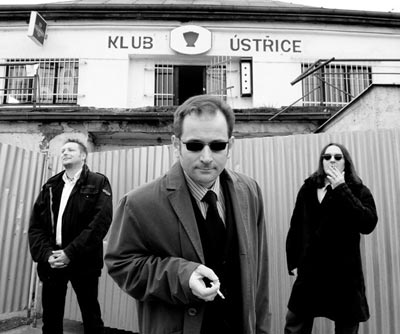 2 Wings are
Dan Šustr – lead vocal, guitars
Michal "Sherry" Šerák – bass, back vocal
Wendy Šváb – drums, backing voc.
Skupinu 2Wings (W2) založil skladatel, kytarista a zpěvák Dan Šustr známý jako vůdčí osobnost jedné z nejznámějších a nejúspěšnějších skupin 90. let Tichá dohoda (též autor či většinový spoluautor všech vydaných CD Tiché dohody včetně hitů Cizí pohled, Má duše se vznáší, Kotva a Kříž, Marioneta, Tulák po hvězdách, Saint-Tropez, Kde spí andělé a Večírek Osamělých srdcí, z nichž mnohé z nich se hrají dodnes).
Po nedobrovolné šestileté odmlce způsobené tlakem velkých firem na realizaci sólové kariéry zpěvačky skupiny, přichází s novou, neztenčenou energií bez "podpůrných prostředků" stále fascinován řinčivým zvukem elektrické kytary někde mezi klasickým britským soundem a neilyoungovským pragrungeovým zvukem, výraznými sloganovitými melodiemi a hutným rytmickým spodkem tepajícího rokenrolu bez "knedlíkových" konotací.
Skupinu v klasickém trojčlenném obsazení inspirovaným vintage rockem 70.-90. let (od Cream přes Experience, Jam, Police až po Motorhead a Nirvanu) dále tvoří Michal Sherry Šerák (Tichá dohoda, Darryl Green) a na postu bubeníka nahradil Mikoláše Nopa (100 Zvířat, Bůhví) od počátku roku 2008 Wendy Šváb (Tichá dohoda, Excelence). V současné době se tedy v 2Wings sešli 3 členové poslední sestavy Tiché dohody.
------------------------
Dan Šustr Czech Pop Dissident
2 Wings (2W) were founded in 2006 by a well known Czech songwriter and producer Dan Šustr. He had already had a huge success in the nineties with his sensational pop-rock band Tichá dohoda (1990-1999). Their stubborness, independent freeminded attitudes and opinions on sex and drugs and rock´n´ roll labelled the band "difficult" for a Czech "pop establishment" in the late nineties. Despite their eight local hits, several local "Grammy" nominations, creation of their own style called "Underpop (2nd album "Underpop" released 1992)" and the first Czech unplugged record ever ("UnplugGag" 1994) the band didn´t seem to fit in the marketing plans of majors and the last "official album" was released by Sony Music in 1998 (Válcovna vkusu s.r.o. – Public Image Mill Plant ltd.).
After eight years of silence the rock´n´roll monster has woken up....
...and it´s back with full energy and loud mission of 2 Wings!
http://www.myspace.com/193762636
http://www.facebook.com/pages/2Wings/358675260502?ref=mf&v=info
http://www.2wings.cz/
Information Overdose (EP, Pop Dissident Records 2007)
Overseas Pilots (Pop Dissident Records 2007)
3bees Sessions (Pop Dissident Records 2008)
Overseas Pilots (Blu Ray Disc, Studio DADA 2008)
Songs from another Pocket (Pop Dissident Records 2010)


I´ve seen Tomorrow
I woke up in the morning and I was wondering what I´d seen
All the things that may have happened were just pictures in my dream
I have seen tomorrow but that all was but a dream
There were too many colours everywhere and around me
I started my day with a cup of coffee searching for the rainbow and skies on the scene
So I gazed out of my window And I realized It was just a dream
I can´t change tomorrow cause I don´t know how and I won´t dream
Nothing will change my life and my heart – you´ll see
I´ve seen tomorrow
I´ve seen tomorrow
---
TelLemarkK
Hudba bez hranic, která se rodí "tady a teď ".





Před očima (či spíše ušima) posluchače se rodí nová hudba, která využívá barev různých evropských, či mimoevropských nástrojů, jejich dosud neobvyklých kombinací a v neposlední řadě lidského hlasu.

 
Pavel Hrubý : tenor saxofon, soprán saxofon, basklarinet, hlas
Tomáš Reindl : drums & percussion, tabla, didjeridu,

pra-klarinet, bluesová harmonika, hlas
SPECIAL GUEST:
Dorota Barová : violoncello, zpěv
http://www.tabla-tom.com/Tellemarkk.htm
Kontakt: 
Tomáš Reindl
e-mail:
www.myspace.com/tomasreindl
Skype name: tomasreindl 
Record Label:

Indies Scope
Members:
 

Kateřina Göttlichová
Alžběta Josefy
Karla Braunová
Michala Hrbková
Daniela Kalvodová
Katja Eva Lanči
Jan Hrbek
http://www.myspace.com/braagas
---
Photolab  
Členové / Members:

Magdalena Šalamounová - zpěv
a.m.almela - kytara
p.m.bob - kytara
Elisn - basová kytara
Petah - klávesy
Hopinu - bicí
Kudla - design
Pět nástrojů s hlasem éterické Magdaleny Šalamounové přinášející netradiční, podmanivý hudební zážitek přirovnatelný k poslechu filmového soundtracku. Velká inspirace filmovou hudbou je v tvorbě Photolabu nepřeslechnutelná. Přesto kapela zůstává věrna klasickému písničkovému střihu, což její hudbě dodává na intenzitě a jakési momentálnosti. Součástí živých vystoupení je i velkoplošná projekce speciálně vytvořená zvlášť pro každou z písní. To koncertům dává i vizuální rozměr a útočí tak na další smysl posluchačů.

Kapela díky svému širokému potenciálu spolupracuje také s divadelními či výtvarnými projekty, tvůrci nezávislých filmů, ale na svém kontě již má i spolupráci s telefonním operátorem či jiné aktivity v reklamní oblasti.

Asi nejvýraznějšími a nejznámějšími tvářemi Photolabu jsou zpěvačka Magdalena Šalamounová, jež na sebe upozornila mimo jiné i díky spolupráci s Hanou Hegerovou či Mekym Žbirkou a kytarista a.m.almela. Ten se již delší dobu na české scéně pohybuje a za svou kariéru prošel mimo jiné například legendární kapelou Ecstasy Of St.Theresa, skupinami Roe-deer, Miou-Miou či jako doprovodný kytarista Anety Langerové, Michala Hrůzy atd.

Rezervační agent:

Web:

http://www.photolab.cz
http://www.myspace.com/photolabmusic
http://www.bandzone.cz/photolab

http://www.facebook.com/#!/photolab.cz?v=wall




---

---

THE END

---

---
News & Actualities
News & accesories
Oblíbené odkazy
About.com - Blues
Absolutely Kosher Records
Acoustic Guitar Magazine
Adrian Recordings
All Music
All Scandinavian Music
Alternative Tentacles
ALT Sounds - Independent Music Journalism
Amazon
American Music podle Stefana Wirze
Amplión Records
Animal Music Records
Anish Kapoor
ANTI -
Archa Theatre / Divadlo Archa
Arch Hill Recordings - New Zealand Independent Record Label & Mu
Art Design Café
ARTA Records
The Artist Shop
Arts & Crafts
Assumer Guide
Asthmatic Kitty Records
Atlantic Records
Bandzone.cz
Bar/None Records
Barsuk Records
BBC Radio 2
BELLA UNION
Better Looking Records
Billboard
The Bill Frisell Song Finder
Black Canvas Records
Black Hen Music
Blind Pig Records
Bloodshot Records
Blue Note Records
Blues Interactions / Japan
BLUES Magazine (France)
Boomkat
BraAgas
Bright Midnight Archives - The Doors Music
Brit Awards
Budoár staré dámy
Camino Records
CD Baby
CD Roots
Championship Music
Chapeau Rouge Club Prague
Cherry Red Records
Circusworld Productions
Concord Music Group
Consequence of Sound
Cooking Vinyl UK
Cowboy Lyrics
Crammed Discs and Associated Labels
Daily Music Guide
Darla Records
Daytrotter Sessions
The Deli NYC / LA / SF Music Magazine
Dine Alone Records
Django Station
DGM Live
Dog My Cat Records
Domino Records
Drag City Records
Dusted Magazine
Dust Songs
East Village Radio
EasyCapsa.cz - Poslat zásilku
EMI Label Services & Caroline Distribution
Encyclopaedia Britannica
Enja Yellow Birds / Jazz Records
Essay Recordings
Exclaim! Canada´s Music Authority
Facebook
FAME Magazine
Fat Cat Records
Fat Possum Records
Filter Magazine
Fina-Music
Fire Records
Fly Fi
Fretbase songs
Full Time Hobby
GIBSON
GIZEH Records
Good Day Records
Guerilla Records
Hellthy Entertainment
HMV.com
Hudba.sk
Iceland Airwaves Festival
Ice Cream Man
IFPI
The Independent
Indies Scope Records
Insound
INTAKT RECORDS
iREPORT
Israeli & Jewish Music
Iva Marešová & 999
Jagjaguwar Records
Jambands
Jana Šteflíčková
JANGO Tais Awards Songs
Jaryn Janek bass web
Jazz FM - Listen Live
The Jazz Loft
Jazz Meets World
JazzPort.cz
JAZZ REPUBLIC / CLUB PRAGUE
Joe Wakeford
Justin Lavash
Just Music
Just Plain Folks
Kate Kilbane
K Records
Kemado Records
Killrockstars
Kranky
Kurzy měn
Kutya - jewellery / shop / Midi Lidi
Kyle Gann
Kytary.cz
Label Home Table (Dva)
Lambchop
Landmine Alert [cze label]
Laurie Anderson
Le Chant du Monde
Live from Austin
Locust Music Records
Longital
LoveMusic
Lowcut
Lucerna Music Bar
Luckyhorse Industries
Luft Kinoklub Lysá n. Labem
Manuel Rodriguez and Sons
Marta Topferova
Matador Records
MAUNET
Maxumi Dance Music Magazine
Mercury Records
Merge Records
Miami Science Museum
Michael´s Uncle
Midi Lidi
MISELAGO - Australia & New Zealand
Mix.cz
Mobile Fidelity Sound Lab
MOJO
Mondomix
Moon June Records
Musis Is Amazing
Musicserver.cz
Music Report / Slovakia
Muzikus
MySpace
Naïve Records
Native American/Indian Tribes
Nejnejnej.cz (rock-jazz.cz/cs/eshop)
Nettwerk Records
Nonesuch Records
Noripcord - Music & Film
NorthernBlues Music
Ocean Music
Odessa Records
One Little Indian Records
Open Mic Potrvá
Ottmar Liebert
Palác Akropolis
Parasol Records
PARIS ON THE MOVE - blues/jazz/rock
Paste Magazine
Patrick Fraser photography
Petr Dorůžka - World Music
Philzone.com
PICCADILLY RECORDS
Piper Records
Pitchfork Media
Poetry Foundation
Polyvinyl Record Co.
Prague Jazz Clubs
Pretty Good Music - New, unknown, and up-and-coming artists
Progboard.com / Slovakia
Putumayo World Music
Q The Music
Radio SOTOKOTO
Radio Wave
Recommended Records
Red Grape Records
Red House Records
Relix - The Magazine For Music
Respekt.cz
Respect Music - Rachot
The Reykjavík Grapevine / Music
Rhino Records
Robert Christgau
Robin Parmar
Rockwood Music Hall, NYC
Rolling Stone
Rollo & Grady
Root Down Records
Rough Trade Records
Rune Grammofon
Ryuichi Sakamoto
Sanity Muffin
The Santa Fe Desert Style as Defined by SSRI
Sarah Cahill
Secretly Canadian
Sentimentalist Magazine
Seu Jorge and Almaz
Shangri-La Records
Shout! Factory - Music, Movies & Video
Silber Records
Six Degrees Records
The Skinny
Skoda Jazz Festival
Slnko Records
Smells Like Records
Smooch Records
The Social Registry
S.O.I.L.
Solomon R. Guggenheim Museum
Song Lyrics
Song Meanings, Lyrics and Trivia.
Sounds Familyre Records
Sound On Sound
Southern Records
Spin Magazine
Spruce & Maple Music
Stereo & Video
Stick
Stony Plain Records
Studio Najbrt
Sub Pop Records
Sue & Sanyland
Sugar Hill Records
SUPERMUSIC.SK
Tea Art Workshop
Telarc
Three Ring Records
Thrill Jockey Records
Touch and Go / Quarterstick Records
Trina Shoemaker [mixer/producer/engineer]
Triple J Unearthed
Turkmen Music & Multimedia Homepage
Tzadik
UbuWeb
UCCA
Uncut
Unijazz
Úschovna.cz
U Kaštanu
U Zavěšenýho kafe - kavárna a hospoda
Vagon Club
Vagrant Records
ValMez 2009
Vladivojna La Chia
Wagram Music
Warm Electronic Recordings
Waterloo Records
Webradio Welle303.de
WERS 88.9 FM
Western Vinyl
Wikipedia
Winter & Winter
Womad Shop
WOMEX
Wrasse Records
XL Recordings
X Production s.r.o.
Yamaha
Yep Roc Records
Yer Bird Records
Young God Records
You Tube
Zazzle Store Tais Awards
Zunior.com
ZVA 12-28 Band
Živé kvety
11 Records
3bees - Recording
4AD Records
500 Records
7digital
Happening
Music. Warmth people. Good songs.Delight in female voice.YOU!
Kaki King