Esben and the Witch – Violet Cries 
 [2011]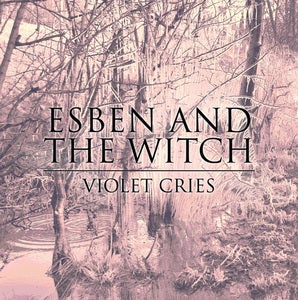 LP version of the debut album, Violet Cries. Contains MP3 download coupon. Tracklisting:
Side A:
1. Argyria
2. Marching Song
3. Marine Fields Glow
4. Light Streams
5. Hexagons IV
Side B:
6. Chorea
7. Warpath
8. Battlecry/Minicry
9. Eumenides
10. Swans
You can download a free mp3 taster in the form of Warpath here.
Release dates:
UK/EU - Jan 31 2011.
USA/ROW - Feb 8 2011.
Record Label: Matador
Influences: Anno Birkin, William Blake, JG Ballard, David Lynch, Francis Bacon, Hieronymus Bosch, Ted Hughes, Thomas Hardy, Baudelaire, Edgar Allen Poe, Oscar Wilde, Sylvia Plath, Werner Herzog, Brothers Grimm, Twin Peaks
Lovely bands: Illumination, The Sea, Cartography, Owls, Glaciers, Caverns, Madness, Waning Moons, Dusk, Dreams, Waxing Moons, Nightmares, Foxgloves, The Dark, Salt Mountains, Stalactites, Pines, Anatomy, Stalagmites, Victoriana, Romance, Ghosts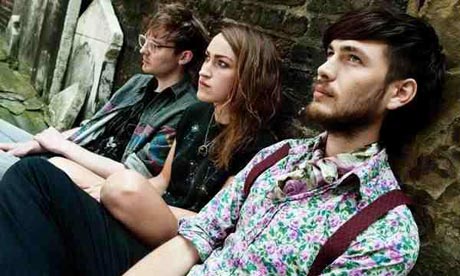 Ethereal ... Esben and the Witch. Photograph: Lucy Johnston
Hometown: Brighton.

The lineup: Rachael Davies (vocals, percussion), Daniel Copeman (electronics, guitars), Thomas Fisher (guitars, keyboards).
The background: Esben and the Witch are a Brighton trio who take their name from a Danish fairytale involving cruelty to children, ritual slaughter and all manner of unpleasantness. Obviously there was something about the dread that pervades the tale which appealed to the members of EATW. Some of that atmosphere - well, a lot, to be fair - has been brought to bear on the group. Their music is ethereal, only more in the eerie than Enya sense of the word, an eeriness inspired as much by books as any record - they're as into Bacon and Bosch as they are Björk or (Kate) Bush.
It's music for big, dark, gloomy, intimidating but oddly inviting haunted houses; houses that are full of fearful silences, empty rooms, cobwebs and rocking chairs that move, even though no one has sat in them for years. Esben remind you of the malice in wonderland, the beauty in horror and the horror in beauty, that sort of stuff. They claim their influences are "glaciers,
caverns and waning moons", and insist they were encouraged to write the songs - romantically-dark tales of mystery and woe clearly indebted to Poe - on their debut five-track EP, 33, by "literature, nature and sorrow".
They seem to have some knowledge of life's less appealing aspects, a feeling enhanced by references to machetes, and the scything, the drilling noises, the pummelling low bass that underpins the circling guitar of the last track on their MySpace, Corridors. But really, this feeling is everywhere in Esben'stremulous but ultimately tumultuous siren songs.
"We have tried to combine personal experience and emotion with intriguing stories, concepts and imagery to create something unique," they say.
Sound-wise, Esben hover enigmatically between goth, electronica, trip-hop and post-rock. There are echoes in Davies's impeccably enunciated vocals of Siouxsie's unholy caterwaul. In Fisher and Copeman's by turns soft and stormy instrumental interference of Killing Joke's tribal thunder, there are echoes of Aphex's glitchy gall, of Portishead's serene menace and of the abstract invention of Radiohead circa Kid A. These are quietly disturbing sonic fables with gentle yet portentous intros, middle sections full of rumbling foreboding and crashing, climactic codas. "We're certainly not actively seeking darkness," they declare, interrupting a séance to put the dead into deadpan. "It just appears that some of the more interesting things aren't always particularly well lit …"
The buzz: "The suave country cousin of Portishead, who's come to town toting a porcelain owl under their provincial arm and surprising everybody with their perfect diction and savoir faire."
The truth: Brrr. We recommend listening to them in a brightly-lit room, during the day, surrounded by close friends and family.
Most likely to: Scare the Blair Witch.

Least likely to: Scare Cherie Blair.

What to buy: The self-released 33 EP is available now at EATW shows. They have a split single released by Dance to the Radio in October.

File next to: Siouxsie & the Banshees, Bat For Lashes, Björk, An Experiment on a Bird In the Air Pump.

Links: www.myspace.com/esbenandthewitch
http://www.facebook.com/esbenandthewitch?ref=ts&v=wall#!/esbenandthewitch?v=info

News & Actualities
News & accesories
Oblíbené odkazy
About.com - Blues
Absolutely Kosher Records
Acoustic Guitar Magazine
Adrian Recordings
All Music
All Scandinavian Music
Alternative Tentacles
ALT Sounds - Independent Music Journalism
Amazon
American Music podle Stefana Wirze
Amplión Records
Animal Music Records
Anish Kapoor
ANTI -
Archa Theatre / Divadlo Archa
Arch Hill Recordings - New Zealand Independent Record Label & Mu
Art Design Café
ARTA Records
The Artist Shop
Arts & Crafts
Assumer Guide
Asthmatic Kitty Records
Atlantic Records
Bandzone.cz
Bar/None Records
Barsuk Records
BBC Radio 2
BELLA UNION
Better Looking Records
Billboard
The Bill Frisell Song Finder
Black Canvas Records
Black Hen Music
Blind Pig Records
Bloodshot Records
Blue Note Records
Blues Interactions / Japan
BLUES Magazine (France)
Boomkat
BraAgas
Bright Midnight Archives - The Doors Music
Brit Awards
Budoár staré dámy
Camino Records
CD Baby
CD Roots
Championship Music
Chapeau Rouge Club Prague
Cherry Red Records
Circusworld Productions
Concord Music Group
Consequence of Sound
Cooking Vinyl UK
Cowboy Lyrics
Crammed Discs and Associated Labels
Daily Music Guide
Darla Records
Daytrotter Sessions
The Deli NYC / LA / SF Music Magazine
Dine Alone Records
Django Station
DGM Live
Dog My Cat Records
Domino Records
Drag City Records
Dusted Magazine
Dust Songs
East Village Radio
EasyCapsa.cz - Poslat zásilku
EMI Label Services & Caroline Distribution
Encyclopaedia Britannica
Enja Yellow Birds / Jazz Records
Essay Recordings
Exclaim! Canada´s Music Authority
Facebook
FAME Magazine
Fat Cat Records
Fat Possum Records
Filter Magazine
Fina-Music
Fire Records
Fly Fi
Fretbase songs
Full Time Hobby
GIBSON
GIZEH Records
Good Day Records
Guerilla Records
Hellthy Entertainment
HMV.com
Hudba.sk
Iceland Airwaves Festival
Ice Cream Man
IFPI
The Independent
Indies Scope Records
Insound
INTAKT RECORDS
iREPORT
Israeli & Jewish Music
Iva Marešová & 999
Jagjaguwar Records
Jambands
Jana Šteflíčková
JANGO Tais Awards Songs
Jaryn Janek bass web
Jazz FM - Listen Live
The Jazz Loft
Jazz Meets World
JazzPort.cz
JAZZ REPUBLIC / CLUB PRAGUE
Joe Wakeford
Justin Lavash
Just Music
Just Plain Folks
Kate Kilbane
K Records
Kemado Records
Killrockstars
Kranky
Kurzy měn
Kutya - jewellery / shop / Midi Lidi
Kyle Gann
Kytary.cz
Label Home Table (Dva)
Lambchop
Landmine Alert [cze label]
Laurie Anderson
Le Chant du Monde
Live from Austin
Locust Music Records
Longital
LoveMusic
Lowcut
Lucerna Music Bar
Luckyhorse Industries
Luft Kinoklub Lysá n. Labem
Manuel Rodriguez and Sons
Marta Topferova
Matador Records
MAUNET
Maxumi Dance Music Magazine
Mercury Records
Merge Records
Miami Science Museum
Michael´s Uncle
Midi Lidi
MISELAGO - Australia & New Zealand
Mix.cz
Mobile Fidelity Sound Lab
MOJO
Mondomix
Moon June Records
Musis Is Amazing
Musicserver.cz
Music Report / Slovakia
Muzikus
MySpace
Naïve Records
Native American/Indian Tribes
Nejnejnej.cz (rock-jazz.cz/cs/eshop)
Nettwerk Records
Nonesuch Records
Noripcord - Music & Film
NorthernBlues Music
Ocean Music
Odessa Records
One Little Indian Records
Open Mic Potrvá
Ottmar Liebert
Palác Akropolis
Parasol Records
PARIS ON THE MOVE - blues/jazz/rock
Paste Magazine
Patrick Fraser photography
Petr Dorůžka - World Music
Philzone.com
PICCADILLY RECORDS
Piper Records
Pitchfork Media
Poetry Foundation
Polyvinyl Record Co.
Prague Jazz Clubs
Pretty Good Music - New, unknown, and up-and-coming artists
Progboard.com / Slovakia
Putumayo World Music
Q The Music
Radio SOTOKOTO
Radio Wave
Recommended Records
Red Grape Records
Red House Records
Relix - The Magazine For Music
Respekt.cz
Respect Music - Rachot
The Reykjavík Grapevine / Music
Rhino Records
Robert Christgau
Robin Parmar
Rockwood Music Hall, NYC
Rolling Stone
Rollo & Grady
Root Down Records
Rough Trade Records
Rune Grammofon
Ryuichi Sakamoto
Sanity Muffin
The Santa Fe Desert Style as Defined by SSRI
Sarah Cahill
Secretly Canadian
Sentimentalist Magazine
Seu Jorge and Almaz
Shangri-La Records
Shout! Factory - Music, Movies & Video
Silber Records
Six Degrees Records
The Skinny
Skoda Jazz Festival
Slnko Records
Smells Like Records
Smooch Records
The Social Registry
S.O.I.L.
Solomon R. Guggenheim Museum
Song Lyrics
Song Meanings, Lyrics and Trivia.
Sounds Familyre Records
Sound On Sound
Southern Records
Spin Magazine
Spruce & Maple Music
Stereo & Video
Stick
Stony Plain Records
Studio Najbrt
Sub Pop Records
Sue & Sanyland
Sugar Hill Records
SUPERMUSIC.SK
Tea Art Workshop
Telarc
Three Ring Records
Thrill Jockey Records
Touch and Go / Quarterstick Records
Trina Shoemaker [mixer/producer/engineer]
Triple J Unearthed
Turkmen Music & Multimedia Homepage
Tzadik
UbuWeb
UCCA
Uncut
Unijazz
Úschovna.cz
U Kaštanu
U Zavěšenýho kafe - kavárna a hospoda
Vagon Club
Vagrant Records
ValMez 2009
Vladivojna La Chia
Wagram Music
Warm Electronic Recordings
Waterloo Records
Webradio Welle303.de
WERS 88.9 FM
Western Vinyl
Wikipedia
Winter & Winter
Womad Shop
WOMEX
Wrasse Records
XL Recordings
X Production s.r.o.
Yamaha
Yep Roc Records
Yer Bird Records
Young God Records
You Tube
Zazzle Store Tais Awards
Zunior.com
ZVA 12-28 Band
Živé kvety
11 Records
3bees - Recording
4AD Records
500 Records
7digital
Happening
Music. Warmth people. Good songs.Delight in female voice.YOU!
Kaki King