Evangelista — In Animal Tongue (2011)
Evangelista — In Animal Tongue
Location: Los Angeles, California
Album release: September 20, 2011
Record Label: Constellation Records
Duration: 41:43
Tracks: 01 Artificial Lamb 5:02
02 In Animal Tongue 5:55
03 Black Jesus 5:01
04 Bells Ring Fire 5:35
05 Hands Of Leather 2:26
06 Tunnel To The Stars 4:10
07 Die Alone 3:54
08 Enter The Prince 4:51
09 Hatching 4:59
Website Evangelista: http://evangelistasounds.com
Facebook Evangelista: https://www.facebook.com/EvangelistaBand
Website CB: http://www.carlabozulich.com/
Facebook CB: http://www.facebook.com/pages/Carla-Bozulich-Official/124470100945446

Review by Thom Jurek
¶ Over three previous albums, Evangelista, fronted by songwriter Carla Bozulich, has made music that is difficult to classify. Using everything from guitars and drums to purposely constructed atmospheres, improvisation, cabaret music, and virtually any medium that will fit a particular composition, Evangelista has frustrated and delighted critics and fans alike. On In Animal Tongue, they take this to an extreme by creating an album of angular, visceral compositions and minimal elements that create expansive textures and atmospheres. The core trio of Bozulich, Tara Barnes, and Dominic Cramp are all here, joined by guests that include Shahzad Ismaily, Sam Mickens, John Eichenseer, Janel Leppin, and Ches Smith, among others. "Artificial Lamb" is perhaps the most conventional "song" here. Bozulich delivers a witchy, incantatory vocal in a tune about spirituality as love and lust (a prevalent theme throughout), Mickens' plucked electric guitar acts as a pulse, and Eichenseer's synth and effects insert themselves inside her lyrics. "Black Jesus" juxtaposes the sacred and the brazenly sexual with its brooding, minimal soundscapes created by Mickens' guitar and Bozulich's bass. It's the latter's half-sung, half-spoken vocal that creates the dramatic tension of an intoxicating eros in the tune's heart. "Hands of Leather" is positively ebullient by comparison, with Bozulich and Barnes singing in harmony on the chorus, three sets of clapping hands underscored by a drum act as percussion in creating a rhythm around a sketchy guitar that plays a lilting, near-nursery rhyme melody. "Tunnel to the Stars" is the most extreme track here with its dissonant strings juxtaposed against a minimal vocal monologue about domination and desire in the realm of body politics and sexual imagination. "Enter the Prince" walks a line between a fractured blues and sonic experiment as samples, a record player, viola, guitar, and cello frame the singer in a cryptic observation of seduction, pleasure, and power. The set closes with "Hatching," using percussion, viola, piano, organ, and double bass in a primal explosion of sound that reflects the viscera and violence in the cut's title with only a few confounding words near the end by Bozulich. In Animal Tongue is not an easy listen, but it wasn't meant to be. Rather it investigates, explores, and experiments to open-ended conclusions, and to that end, it succeeds magnificently.

Credits:
≈ Thierry Amar Contrabass
≈ Tara Barnes Arranger, Composer, Drawing, Engineer, Producer
≈ Carla Bozulich Arranger, Bass, Bells, Composer, Drums, Engineer, Producer, Sampling, Vocals
≈ Dominic C Hands, Organ, Piano, Vocals
≈ Jessica Catron Cello
≈ Nels Cline Arranger, Composer, Engineer, Producer
≈ Dominic Cramp Arranger, Composer, Engineer, Producer
≈ John Eichenseer Arranger, Composer, Effects, Engineer, Piano, Producer, Synthesizer Bass, Viola
≈ Evangelista Primary Artist
≈ Gaby Hands
≈ Francesco Guerri Arranger, Cello, Composer, Engineer, Producer
≈ Shahzad Ismaily Arranger, Composer, Engineer, Guitar, Percussion, Producer
≈ Janel Leppin Cello
≈ Jesse McCloskey Cover Painting
≈ Efrim Menuck Arranger, Composer, Engineer, Producer
≈ Sam Mickens Arranger, Composer, Engineer, Guitar, Producer
≈ Jessica Moss Violin
≈ Scarnella Composer, Guitar
≈ Ches Smith Drums
≈ Tara B Bass, Contrabass, Hands, Vocals
≈ Sophie Trudeau Viola
Biography by Mark Deming
¶ Evangelista is one in a growing series of musical projects founded upon the talents of singer, composer, and instrumentalist Carla Bozulich. Following the dissolution of Scarnella, her short-lived duo with guitarist Nels Cline (who'd previously worked with her in the Geraldine Fibbers) and Bozulich's solo debut with her reverent but wildly idiosyncratic interpretation of Willie Nelson's classic album Red Headed Stranger, Bozulich traveled to Montreal to work on an album for Constellation Records, with Shahzad Ismaily helping to produce and arrange the sessions and members of A Silver Mt. Zion among the backing musicians. Released in 2006, the finished product was called Evangelista, and Bozulich launched an international tour in support of the album; joining Bozulich for these shows was bassist Tara Barnes, along with many of the artists who worked with Bozulich during the recording sessions. Bozulich and Barnes began writing material together, and when it came time to make her next album, she opted to give their collaborative work a name of its own, Evangelista. ¶ Bozulich and Barnes returned to Montreal to work with many of the same musicians who had appeared on the earlier album, and Constellation released Evangelista's Hello, Voyager in the spring of 2008. The band veered into even darker, less structured territory on 2009's Prince of Truth. Bozulich toured with Evangelista following the album's release. She left her Los Angeles home and took up a nomadic existence, traveling, writing, and recording in different locations with a wide array of musicians, using conventional song forms to open up to wider, more experimental musical vistas. The end result of that period resulted in Evangelista's fourth album, In Animal Tongue, which was also released by Constellation in September of 2011.
© Credits: John Meyer
© Credits: Lissa Ivy
© Dominic Cramp
See also: http://thequietus.com/articles/07146-evangelista-in-animal-tongue-review
The songs stood up to my visceral reaction becoming my perfect soundtrack to night bus journeys all jitter and howl and bitter desire.
Her songs at once terrifying and tremulous simultaneously hold the sleepless listener close and make her want to take flight.
Discography
Solo albums:

The Red Headed Stranger [2003]
I'm Gonna Stop Killing [2004]
Evangelista [2006]
Unrock Instore Gig Series Volume 4 (released in Germany and limited to 300 copies) [2008]
Featured solo work:

New Coat of Paint: Songs of Tom Waits (song "On The Nickel") [2000]
Fields And Streams (song "Blue Boys") [2002]
For a Decade of Sin: 11 Years of Bloodshot Records (song "Lonesome Roads") [2005]
As leader of Evangelista:

Evangelista (released under the name Carla Bozulich) [2006]
Hello, Voyager [2008]
Live at Issue Project, NYC June 15, 2008 (self-released CD sold at live shows) [2008]
Prince Of Truth [2009]
In Animal Tongue [2011]
As lead vocalist and lyricist of the Geraldine Fibbers:

Get Thee Gone (vinyl only) [1995]
The Geraldine Fibbers (compact disc EP incorporating elements of Get Thee Gone) [1995]
Lost Somewhere Between the Earth and My Home [1995]
Live From the Bottom of the Hill [1996]
What Part of "Get Thee Gone" Don't You Understand? [1997]
Butch [1997]
As member of Scarnella:

Scarnella [1998]
Super Bad at 65: a Tribute to James Brown (song "Hot Pants") [1998]
Duet album with Ches Smith:

Run (available as MP3 download only) [2012]
Collaborative album with Simone Massaron:

Dandelions on Fire [2008]
As a featured performer with Gary Kail/Zurich 1916:

Creative Nihilism (as Carla Noelle) [1984]
As member of Invisible Chains:
As member of Ethyl Meatplow:

Happy Days, Sweetheart [1993]
As a featured vocalist with Mike Watt:

Ball-Hog or Tugboat? [1994]
As a featured duet vocalist with Hadda Brooks:

I've Got News For You (song "Sometimes I'm Happy") [1999]
As a featured vocalist of The Scott Amendola Band:

Cry (song "Masters of War") [2003]
As a featured duet vocalist with Lydia Lunch:

Smoke In The Shadows (song "I Love How You...") [2004]
As a featured vocalist for The Book of Knots:

Traineater (song "View From a Watertower") [2007]
As a featured vocalist with Xiu Xiu:

Always (song "Smear the Queen") [2012]
As a featured vocalist with Jherek Bischoff:

Composed (song "Counting") [2012]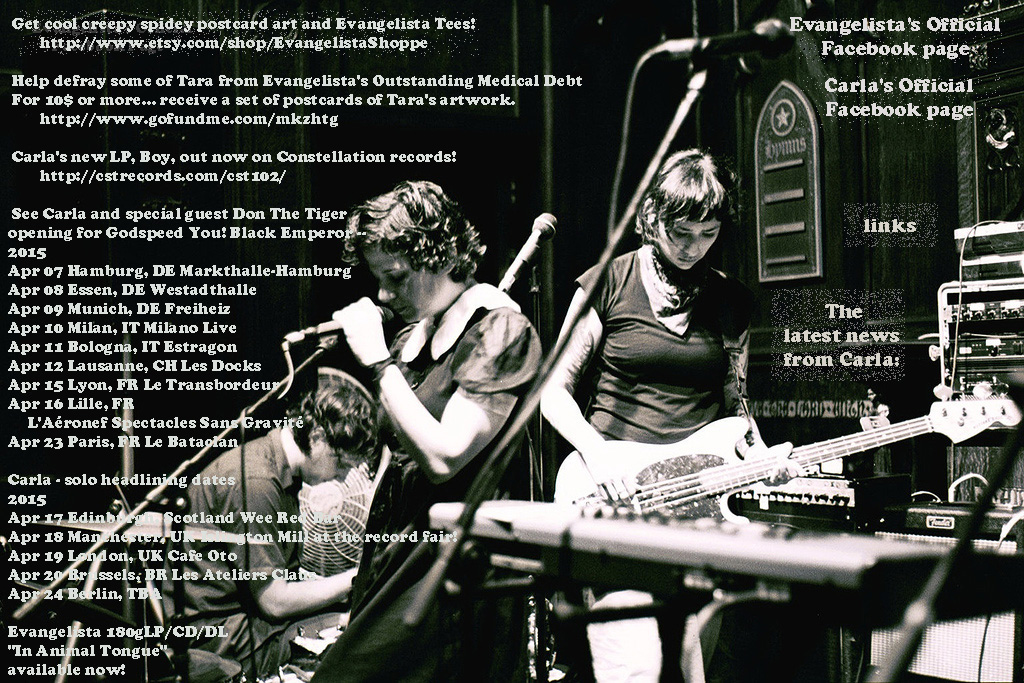 Evangelista — In Animal Tongue (2011)
---