June Tabor & Oysterband – Ragged Kingdom (2011)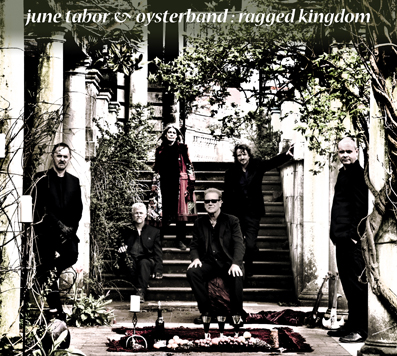 Born: 31 December 1947 (Warwick, England)
Awards: In 2004 she was named Folk Singer of the Year at the BBC Radio 2 Folk Awards.
Record Label: Topic (http://www.topicrecords.co.uk/?cat=81)
Release date: October 18, 2011
Members:
- John Jones (vocals, melodeon)
- Ray Cooper - also known as Chopper (bass, cello, vocal)
- Dil Davies (drums)
- Alan Prosser (guitars, vocal)
- Ian Telfer (violin, keyboard, concertina)
Twenty-one years ago, June Tabor and Oysterband got together to record what is now recognised as an English folk-rock classic. It wasn't exclusively a folk album, though there were some traditional tracks, but rather an eclectic, powerful reworking of anything from Lou Reed to Shane McGowan. Now, at long last, comes the followup that so many of us have been asking for, and it's no disappointment. The energy is still there, along with the desire to startle and experiment, but so is a new maturity and emotional depth, and even greater variety. The traditional songs include Bonnie Bunch of Roses, in which the stomping backing is never allowed to overshadow Tabor's no-nonsense storytelling; then there's a glorious melodeon and fiddle-backed treatment of Fountains Flowing, that song of parting and grief, and there's delicate, unaccompanied vocal harmony singing on the Scottish lament (When I Was No But) Sweet Sixteen. The contemporary songs range from a fiddle-backed stomp through Dylan's Seven Curses, through to a thoughtful, gutsy reworking of PJ Harvey's That Was My Veil, and a pained, acoustic version of Joy Division's Love Will Tear Us Apart, which features a powerful duet between Tabor and John Jones, who come together again for a very English treatment of the bittersweet Dark End of the Street. This was worth waiting for.
Robin Denselow guardian.co.uk, Thursday 15 September 2011 22.31 BST
Rating: 5/5

Tracklist:
01. Bonny Bunch of Roses [04:54]
02. That Was My Veil [02:50]
03. Son David [03:46]
04. Love Will Tear Us Apart [03:25]
05. (When I Was No But) Sweet Sixteen[03:00]
06. Judas (Was a Red-Headed Man) [04:08]
07. If My Love Loves Me [04:54]
08. The Hills of Shiloh [04:28]
09. Fountains Flowing [03:46]
10. The Leaves of Life [03:31]
11. Seven Curses [03:26]
12. The Dark End of the Street [02:46]
A collaboration album that constantly scores on almost every levelColin Irwin 2011-09-07
In 1990 June Tabor surprised everyone who had her pegged as the archetypal traditional song interpreter by linking up with the feisty Oysterband for the rocky Freedom and Rain album and promotional tour. It worked spectacularly well, enhancing the reputation and, perhaps, broadening the horizons of both parties, yet the experiment was never repeated. Until now, 21 years later, with Ragged Kingdom.
Most reunions or visitations to the past are doomed to failure and – invariably tackled for the wrong reasons – run the risk of tarnishing the reputation of the original. No such cynicism surfaces here as the relish, joy and mutual understanding clearly invested by all concerned contribute to an immaculate performance and presentation that surely surpasses even its celebrated predecessor.
On her second album of 2011 (her solo album, Ashore, is a tour de force in its own right) Tabor sings better than ever, responding to the simmering power of the band behind her to bring real depth and intensity to familiar traditional songs like Bonny Bunch of Roses, Son David and (a particularly fine version of) Fountains Flowing. These appear along with more leftfield choices like PJ Harvey's wonderful That Was My Veil, Shel Silverstein's The Hills of Shiloh and Bob Dylan's Seven Curses.
Tabor's anguished duet with John Jones on Joy Division's Love Will Tear Us Apart has been a showstopper on the rare occasions they've performed it in the past, and it is no less moving here – the Oysterband singer's own empathetic vocal interplay with Tabor throughout the album is another key reason why it works so well. It feels like a genuine union which takes both Tabor and the Oysters beyond their normal realms, with stimulating results for them and us. Later, there's almost a Byrds-like quality to the jangling rhythms driving The Leaves of Life.
From Ray Cooper's raging cello on Seven Curses, to the majestic, ceremonial arrangement of The Dark End of the Street and the eerily humming backing vocals on the otherwise unaccompanied (When I Was No But) Sweet Sixteen, this is an album that constantly scores on almost every level.
Website Oysterband: http://www.oysterband.co.uk/
Website June Tabor: http://www.brightfieldproductions.co.uk/tabor.htm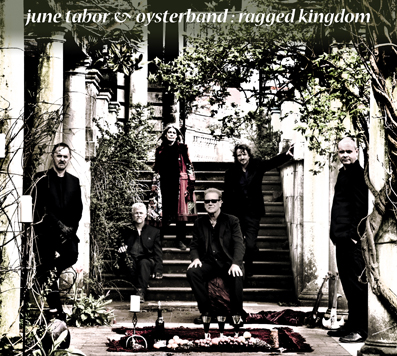 Facebook Oysterband: http://www.facebook.com/pages/Oysterband/124838504248510?sk=wall
Facebook June Tabor: http://www.facebook.com/pages/June-Tabor/50482382796?sk=wall 
"The spark" says Oysterband's Ian Telfer "is we really feel we do something together which is different from what we do as separate acts. There is something in the combination of June's exquisite dark voice with the supple energy of Oysterband that greatly pleases us. June comes to recording fantastically well prepared: every nuance of meaning and feeling considered in advance and plotted in her mind. Then she stands in the studio and delivers one perfect take, like an act of Chinese calligraphy. Or maybe Chinese cooking: the work is all in the preparation."
---
News & Actualities
News & accesories
Happening
Music. Warmth people. Good songs.Delight in female voice.YOU!
Kaki King