Justin Vivian Bond – Dendrophile (2011)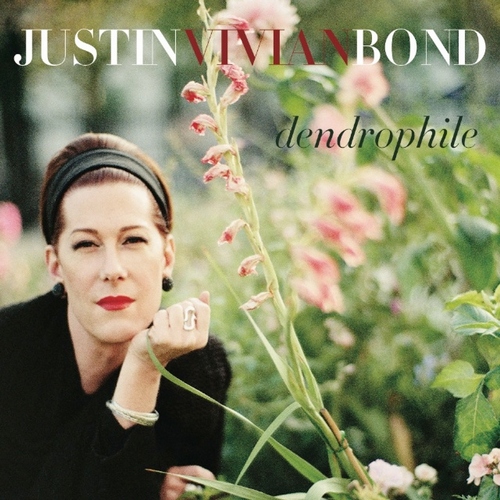 Justin Vivian Bond – Dendrophile
Birth name: Justin Bond
Born: May 9, 1963, Hagerstown, Maryland
Genres: Alternative, cabaret
Location: New York City
Album released:
Record Label: Whimsy Music
Journalist Mike Albo, writing for Out magazine, described Bond's shows as being "hilarious, heart-wrenching, vulnerable, sardonic, Wiccan, and world-weary all at the same time."
Metro Pulse: http://www.metropulse.com/news/2011/may/25/justin-vivian-bond-dendrophile/
Justin Vivian Bond, is an American singer-songwriter, performance artist and occasional actor. Described as a "fixture of the New York avant-garde", Bond arose to notability playing the role of Kiki DuRayne in the drag cabaret act Kiki and Herb from the early 1990s through to 2004.
In April 2011 Bond released first full-length solo album, Dendrophile, a collaboration with pianist/producer Thomas Bartlett from the band Doveman. Justin had chosen the title from vs interest in dendrophilia, the sexual attraction to trees. Dendrophile contained a mix of original compositions and covers, with Bond telling one reporter that "I wanted it to be sort of like an early-'70s folk-pop variety album, because my favorite singers are people who aren't easy to pigeonhole, like Judy Collins, who introduced me to the music of Jacques Brel, Leonard Cohen, old British folk songs, contemporary pop songs and show tunes.
Website: http://justinbond.com/
Description:
Dendrophile is Justin Bond's first full-length album as a solo artist. It encapsulates the various—and constantly evolving—dimensions of Bond's career post-Kiki and Herb.
The material comprising Dendrophile reveals the variety of Bond's artistic passions and is greatly influenced by early `70s folk-pop variety records by artists that defied genre and could easily go from protest songs to jazz standards, from adapting a traditional folk song to singing cabaret music. Features original compositions and select covers of Joni Mitchell, Judy Collins/Joan Baez, and Exuma.
Thomas Bartlett (aka Doveman), plays piano, serves as bandleader, and produced the album with help from Pat Dillett (David Byrne, Caetano Veloso, Laurie Anderson).
Like V.'s shows, the album finds Bond surrounded by a significant cross-section of NYC talent: Sam Amidon, Rob Moose, Shahzad Ismaily, Brad Albetta, Doug Wieselman; It also features singers Beth Orton and Dawn Landes, among others.
 Justin Bond has won Obie, Bessie and Ethyl Eichelberger Awards, and was a Tony Award nominee. As one-half of the performance duo Kiki and Herb, Bond toured the world, headlining Carnegie Hall twice, and performing at The Sydney Opera House and London's Queen Elizabeth Hall.
You will receive links to high-quality MP3 files of all 11 tracks of this album on completion of purchase. Tracks included are:
Tracklist:
01. American Wedding
02. The Golden Age of Hustlers
03. Equipoise
04. The New Economy
05. Salome
06. Genet Song
07. 22nd Century
08. Crowley A La Lee
09. Superstar /  Diamonds and Rust
10. In The End
11.  Court and Spark
Credits:
Produced by Thomas Bartlett
Additional production by Patrick Dillett
Mixed by Patrick Dillett
Recorded by Patrick Dillett at his studio,
and Dawn Landes and Steve Salett at SaltLands Studio
Second Engineer at Patrick Dillett's studio, Jonathan Altschuler
Mastered by UE Nastasi at Sterling Sound
Cover images by ioulex
Layout & Design by Julie Blair
Musicians:
Doug Wiselman, saxophone, bass clarinet
Brad Albetta, bass
Sam Amidon, acoustic guitar, banjo, vocals, violin
Thomas Bartlett, piano, rhodes, vocals
Ray Rizzo, drums, violin, viola, string arrangement
Shahzad Ismaily, drums
Rob Moose, viola
Nathan Carrera, guitar, drums
Oren Bloedow, electric guitar
Beth Orton, vocals
Dawn Landes, vocals
Facebook: http://www.facebook.com/justinvivianbond?ref=s
Kim Gordon, Thurston Moore and Yoko
Photo courtesy of Kevin Mazur / Wireimage
Author: Michael Doucette
Photo by Amos Mac
Name:  Justin Vivian Bond
I've chosen to add Vivian to my name because I want a name that provides a balance to the traditionally male name of Justin and because it means "to be alive".  To really be alive and live my experience of the world as fully as possible I have to give life to the parts of me I feel I was asked to kill off as a child.  Was I a boy/girl girl/boy?  How many times did someone say to me, "You should have been born a girl."  As if to imply that destiny had played a cruel joke on me.  But it wasn't destiny being cruel, it was society.  I was constantly being asked, trained, and/or tormented into denying what I truly was. Many times I overheard my mother casually, and unbeknownst to her, refer to me as "she" when she was engaged in conversation with a relative or close friend.  Deep inside she knew and knows what I am. Most people do.  It's not really that tricky.
After discussing my intentions with several very close friends I was surprised and comforted by the lack of shock and easy acceptance, encouragement and support I've received.  I'm so blessed to have such an open-hearted community around me.
S0!
My new name is Mx Justin Vivian Bond because it embraces my trans identity, it reflects and inspires my inner imaginings and -most importantly- because I like it.  You may call me Justin, or Vivian or "V".
News & Actualities
News & accesories
Happening
Music. Warmth people. Good songs.Delight in female voice.YOU!
Kaki King