Liz Green – O, Devotion! (2011)
                                            Liz Green – O, Devotion!
Born: West Kirby, UK
Location: Manchester, North West, United Kingdom
Album release: November 14, 2011
Record Label: Play It Again Sam
Genre: French pop / Gospel / Screamo
Website: http://www.lizgreenmusic.co.uk/
Tracks:
01.)  Hey Joe   4:31 
02.)  Midnight Blues   3:32 
03.)  Displacement Song   4:01 
04.)  Luis   3:27 
05.)  Bad Medicine   3:37 
06.)  French Singer   4:28 
07.)  Rag & Bone   2:47 
08.)  The Quiet   5:46 
09.)  Ostrich Song   3:17 
10.)  Gallows   5:36
Press shortly:
"4/5"   Q
"4/5"   Uncut
"O, Devotion! brims with depth, detail and fleet drama"   The Independent
"Lesser performers will be jealous as hell"   The Fly
"Wonderful" 'Single of the Week'   Guardian Guide
"a surfeit of simple yet beautifully crafted songs" 8/10   Drowned in Sound
"A deliciously dark and serpentine journey" 4/5   Daily Mirror
"Haunting and beautiful"   Sunday Times
"Her enchanting mix of muddy blues-tinged folk songs possess a warmth that gets immediately under your skin"   Music Week
Music Broke My Bones [7,5/10]:   http://www.musicbrokemybones.co.uk/?p=2034
Soundcloud: http://soundcloud.com/lizgreenmusic
Press contact: Nathan Beazer | || Radio: Cool Badge |
Liz Green's debut album has been a long time coming. The Wirral-born, Manchester-based singer first made some big waves in 2007 after her double A-side single Bad Medicine/French Singer was released. The eerie mix of blues and jazz, sounding for all the world like they were recorded sometime in the '30s, caused quite a splash, and it wasn't long before Green was tipped as one to watch. Yet then, for four long years, silence pretty much reigned. At last though, we have Green's debut album O Devotion! – it seems she possesses a particularly strong perfectionist streak and toiled endlessly to recreate the songs in the studio to sound exactly like they had in her head. Thankfully, producer Liam Watson has proved to be a perfect foil, and has helped to shape these 11 songs in a very memorable way.
For O Devotion! is a truly remarkable listen. For a start, there's Green's voice – part Edith Piaf, part Bessie Smith with a healthy dose of Antony Hegarty thrown in. It's a strange, other-worldy vocal which grabs the attention from the get-go.
Yet what's truly special about this album is the way that Green's distinctive voice is married to the equally distinctive arrangements on display. Stark acoustic guitars mix in perfectly with parping brass, giving tracks like the brilliant Displacement Song an almost Brecht/Weill tone to them.
Her lyrics too are a class above the norm. The aforementioned Displacement Song concerns the Italian chemist and Auschwitz survivor Primo Levi and paints a haunting picture of its subject ("here they come in their two and their threes, their guns to the front so you can't fail to see"). The gently lilting New Orleans-style brass underpinning the song just adds to the sense of compelling unease.
There are also re-recordings of previous singles Bad Medicine, French Singer and Midnight Blues. The latter is particularly good, almost skipping along as Green describes a night which is "gonna be a whole lot of fun tonight" despite sounding anything but. The re-recording of French Singer is nothing short of extraordinary – just Green and a piano, conjuring up the spirit of Edith Piaf and sounding for all the world like she could be one of her contemporaries.
Green also seems to be able to draw on a deep well of sadness with her marvellously expressive voice. Just the mournful intonation of "I'll take the quiet, I'll take the winter, I'll take the cold" is enough to break the hardest of hearts, while the closing Gallows is as bleak as the title may suggest, with an anguished cry of "I always knew you'd bring me down" before going on to borrow from the macabre children's nursery rhyme Oranges & Lemons.
The pace may not vary too much, but in this age where the tide of female singer/songwriters is becoming ever more strong, you need something truly special and memorable to stand out from the crowd. Liz Green has that something special in abundance and O Devotion! is a truly special album.

BBC Review:
Her debut's been a long time coming, but these 10 tracks have been worth the wait.
Luke Slater 2011-11-07
You might have expected north-western retro-folk singer Liz Green to have released at least one album by now. It was five years ago that she triumphed in Glastonbury Festival's emerging talent competition: its prize, a slot on the Pyramid Stage. Yet her career path has been a slow and steady one, and it is only now that she releases her debut full-length. 
O, Devotion! is a product of London's Toe Rag Studios – famous for its analogue equipment and for having birthed The White Stripes' Elephant, notably – and the production fits Green's music well. Hers is a very English take on a style frequently redolent of pre-war American folk music. Dated though it may seem, you will not find any simple and crude facsimiles here.
Green emits a pained persona on almost every track, and even when the music takes a turn for the upbeat, she maintains a dark tone alongside dashes of black humour. Her delivery is smooth and mournful throughout; she laments magnificently where others might merely sing of passing woes. There are some old favourites amongst these tracks, like Bad Medicine, a mainstay for some years now; but Green presents much newly-penned material, too. The addition of a brass section beefs up certain songs, like the jaunty Midnight Blues, whilst absolutely making others, like the wandering, mercurial and waltzing Displacement Song.
The beauty of O, Devotion! is to be found in its simplicity. It would have been easy for there to be overbearing orchestrations; but the main focus has to be, and indeed is, the bare bones of each composition – carefully thought-out and expertly told lyrics backed by an acoustic guitar, wielded with incredible prowess and variety. The most stripped-back it gets is during the morbid closer Gallows, which opens with the lines "Come back to the wagon, this horse and this cart / They'll take you to the gallows at nine o'clock sharp". It's a slow, morose culmination of the album's previous works, hanging heavily on the heart as the end draws in.
Liz Green has been biding her time, but although the wait for O, Devotion! has been long, there can be no doubt that it has been worth it. Its careful arrangements, coupled with Green's unusual but deliberate vocal style and ear for a story, comprise a lasting testament to her talent.

ABOUT THIS ITEM
The least exotic thing about tragi-comic pop artist Liz Green is her name. No Alela here – according to family lore the twenty-eight year old Green is descended from a Liverpool line that includes executioners and rag and bone men. It's at least certain that she carries on an ancestral tradition of storytelling, as her debut album O, Devotion! will testify.
Whatever took her so long? It's now four years since Green's first single, the critically adored, now sought-after 'Bad Medicine', appeared, and she won the Glastonbury Emerging Talent competition to find herself entertaining the main field from on high. Tipped everywhere from Mojo to The Sun, her uniquely lyrical blend of chanson, jazz and the starkest a capella, a distinct fingerpicking style more cable-knit than filigree and an idiosyncratic vocal style nodding to saints (or maybe martyrs) Judy Garland, Billie Holiday and Karen Dalton (Liz bashfully adds at this juncture "There's a few more lives to be led and a few more hearts to be broken before I ever sing with as much soul as those ladies") seemed set to conquer all. Yet a wonderful 'Back in the U.S.S.R' Beatles cover on a covermount CD aside, she had seemingly dropped out of sight.
Except she hadn't. Green has toured consistently, here and abroad, and overcome her dread of the recording studio with aplomb. Sequestered in Hackney's legendary Toerag under the aegis of Liam Watson (White Stripes, everyone else) and subsisting on the local diet of ackee and saltfish, she finally relaxed enough to enjoy the process, so different from the instant gratification provided by an audience.
For fans of Billie Holiday, Karen Dalton, grassroots jazz, muddy blues and homespun folk.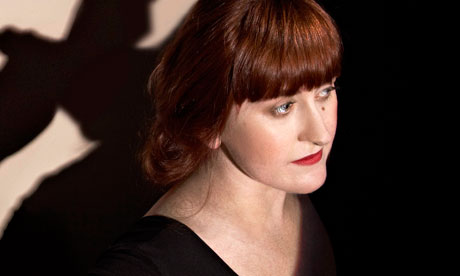 Liz Green in MOJO Magazine // Original page: http://www.emilydennison.co.uk/emilydennison.co.uk/Liz_Green_2.html
Liz Green – O, Devotion! (2011)
---