Nektar – ...Sounds Like This   (2 CD, 1973 / 2004)
(1973 UK, Progressive rock, Eclectic double disc,  2004 Remaster edition)
Location: Hamburg, Germany
Release date: July 1973 / 2004
Recorded: 8/9 February 1973 at Dierks Studios, Pulheim-Stommeln, Germany
Record Label: Bacillus BDA 7506 / Eclectic Discs
Length: 74:17
For Nektar, 1973's double set "Sounds Like This" was a pivotal moment. Roye Albrighton, (guitar, lead vocals), Allan "Taff" Freeman (keyboards, vocals), Derek "Mo" Moore (bass guitar, vocals) and Ron Howden (drums and percussion), had been touring and recording solidly for nearly four years, ably assisted by Mick Brockett's elaborate light show.
Forming in Hamburg in 1969, Nektar quickly established themselves as a major live attraction in Germany. Signing to Bacillus records in 1970, the band had recorded the superb albums "Journey to the Centre of the Eye" and "A Tab in The Ocean" and were now looking to spread their music outside of Germany. The first overseas territory to be receptive to Nektar's music was Britain. Andrew Lauder, head of the UK division of United Artists records had become aware of the band thanks to the members of Welsh band Man recommending the group highly.
As a result, the next album to be recorded by Nektar would also secure a British release. "Sounds Like This" was conceived as a way of capturing the live power of Nektar in the controlled surroundings of a recording studio, without employing the use of overdubs and as a vehicle to record of die older material written by the band in their formative months. The first sessions for "Sound Like This" took place at Dierks studio in Stommeln on 12th October 1972.
In front of a small invited audience Nektar performed a lengthy set of music which included versions of "Good Day". "A New Day Dawning" (written by the band in 1969), "Wings", an extended jam of "Cast Your Fare" which featured a riff utilised in "Mr. H", later included in "A Day in the Life of a Preuhtr" ir.d "Da Da Dum". In addition several pieces were recorded that in hindsight proved to be the birth of several major compositions in the later Nektar canon.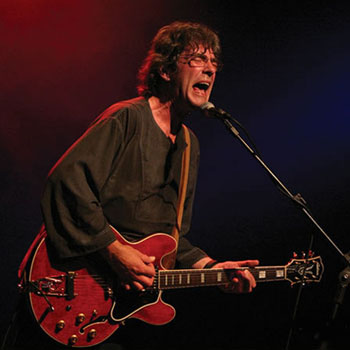 © www.nektarsmusic.com
"Sunshine Down on the City" was a twelve minute long opus that included sections of music that later appeared in "Remember the Future Part Two" and "A Day in the Life of a Preacher", whilst "It's All in Your Mind" was a twelve minute tour de force that also contained passages that would later feature in the bands magnum opus "Remember the Future". Despite the excellence of these recordings, no final mixes were made, as both producer Peter Hauke and Nektar felt the performances, (with the notable exception of "Wings"), whilst passionate and energetic, could be improved upon. Therefore the decision was made to enter the studio on February 8th 1973 to record a further "live in the studio" session.
By this time "A Day in the Life of a Preacher" had evolved into a full thirteen minute long concert highlight and was captured for the first time on multi-track tape. Additionally, newer and more polished versions of "Good Day", "New Day Dawning", "WhatYa Gonna Do?" and "Cast Your Fate" were recorded. Nektar also took the opportunity to revisit both sides of their 1972 single "Do You Believe in Magic?" and "1-2-3-4" along with the Ron Howden showcase "Odyssey". This time the fruits of the recording sessions were deemed productive and the sessions were duly mixed and released in June 1973 under the title "Sounds Like This" in Germany and the UK.
The interest generated by the first British Nektar release resulted in the first UK concert dates by the band and laid the foundations of the recording of the next Nektar album, "Remember the Future" at Chipping Norton studios in Oxfordshire. This work was to be their breakthrough album in the USA, reaching number 19 on the Billboard chart and was declared "album of the year" in Germany by the magazine Musik Express. Nektar's star was truly on the ascendant.
by Mark Powell
Website official: http://nektarsmusic.com/nn/home/home_new.asp
Website 2: http://thenektarproject.com/discography/slt.aspx
Tracks:
Disc 1 - Original LP
1. Good Day - 6:43
2. New Day Dawning - 5:01
3. What Ya Gonna Do? - 5:24
4. 1-2-3-4 - 12:43
5. Do You Believe In Magic? - 7:15
6. Cast Your Fate - 5:44
7. A Day In The Life Of A Preacher - 12:55
a. Preacher
b. Squeeze
c. Mr. H
8. Wings - 3:45
9. Odyssey - 14:26
a. Ron's On
b. Never Never Never
c. Da-Da-Dum
Disc 2 - Bonus Tracks
1. Good Day - 7:10
2. New Day Dawning - 5:36
3. Sunshine Down On The City - 13:02
4. Da Da Dum - 6:30
5. What Ya Gonna Do? - 6:50
6. It's All In Your Mind - 12:48
7. Cast Your Fate Jam - 20:25
8. Wings - 3:54
All tracks written by R. Albrighton, A. Freeman, R. Howden and D. Moore.
Nektar:
*Roye Albrighton - Lead Vocals, Guitars
*Allan "Taff" Freeman - Keyboards, Vocals
*Ron Howden - Drums, Percussion
*Derek "Mo" Moore - Bass, Vocals
Credits:
Producer: Nektar and Peter Hauke
Engineer: Dieter Dierks
Concepts by Mo & Mick
Music by Roye, Taff, Mo & Ron
Lyrics by Roye, Mo & Mick.
A NEKTAR composition.

"Sounds Like This" was recorded over three days in February of 1973 at studio Dierks (Germany), the "live in the studio" intent was to give their fans a taste of what a live Nektar show really sounded like without the overdubs and remixes.
These pieces actually pre date the first two Nektar releases (Journey & Tab), many are from Roye Albrighton or from Mo, Taff & Ron (Prophecy) compositions from their pre Nektar days. These individual songs had actually accumulated during the first two years of Nektar playing on the road, so they needed to be laid down on vinyl to make way for newer material to come (RTF)… thus the "Live in the Studio" idea came to pass as the easiest way to preserve these songs. Some of these pieces were first recorded in 1970, but those "Boston Tapes" were never deemed suitable for release, thus these songs were still floating around the 1972 live performances to keep them alive and fresh. This double album was a way for Nektar to move forward by recording their past for posterity.
So, had the NATURAL order of Nektar's musical progression been followed, "NEKTAR SOUNDS LIKE THIS" would have been the FIRST release by the band!
For the sake of accuracy, we decided to list all the songs that are on the bonus cd in the correct order and not the just the ones listed in the booklet that were accidently left off.***
As the author of the Jefferson Airplane book "Take Me To A Circus Tent" and a former radio disc–jockey, I am often asked to write and or discuss various music supplies and recordings from the 60's and 70's.
Nektar's third release coming after "Journey To The Centre Of The Eye" and "A Tab In The Ocean" to this day remains the most underrated of the original Roye Albrighton albums.
Critics called this not up to the previous LP's, when in fact they should have been emphatically impressed with the diversity of the material and the willingness to show off their wears in a double album!
"Good Day" The perfect opening track. It shows the bands ability to tastefully jam around a catchy tune.
"New Day Dawning" Brings us closer to the progressive sound we loved from the two previous efforts. Roye plays with such intensity that it can split your head open. All of a sudden the band takes a bit of the Beatles legendary song "Norwegian Wood (This Bird Has Flown)." It some how all comes together in a five minute production of brilliance.
"What Ya Gonna Do?" Turned out to be the song with a myriad of titles over the years. Sometimes called "Woman Trouble", "Easy" or "Evil" the tune pays homage to the sounds of the blues and early rock and roll. Taff's keyboards bring us back to the 50's and Roye's six string is having fun with the trip to yesteryear.
"1–2–3–4" Would be legendary for its on stage power. The twelve minute studio version leaves a calling card for the all out assault of the senses the concert audience would endure. Mo's bass is crystal clear as the walls shake from the sheer aggression of the music.
"Do You Believe In Magic?" Delivers a tremendous combination of vocal and musical savvy. Ron Howden's drumming is precise, intense, and often up front in the mix.
"Cast Your Fate" Creates a painting of the highest quality. The canvass starts with mellow moods and during a false sense of security the painting takes a heavier view.
"A Day In The Life Of A Preacher" This became one of the most requested Nektar tunes for their live set. The thirteen–minute studio version in all it's splendor never prepared us for the epic live renditions. The band would click on all cylinders and the audience left gasping for air. If the only sounds that emanated the entire night were Roye's blowtorch guitar, you wouldn't feel cheated.
"Wings" Lets you recover from the previous aerial attack. The magic of Nektar is their ability to take us on a musical odyssey with every path never lined with imperfections.
"Odyssee: Ron's on/Never, Never, Never/ Da–Da–Dum "Because the beat went Da Da Dum, said Mo." If ever a tune had an appropriate name. The music is captivating taking over your body. It mixes the progressive rock wizardry of Nektar with their rock and roll aggression. When you sprinkle on Ron's drum solo, this one isn't leaving the CD player anytime soon!
Make sure you look for the remaster from October 17, 2005 with an entire CD of bonus tracks!
Enjoy the music and be well,
Craig Fenton
Author of the Jefferson Airplane book " Take Me To A Circus Tent"
Members: Roye Albrighton, Ron Howden, Klaus Henatsch, Peter Pichl // Past members: Derek Mo Moore, Allan Taff Freeman, Mick Brockett, Keith Walters, Larry Fast, Dave Nelson, Carmine Rojas, Dave Prater, Randy Dembo, Tom Hughes
Peter Pichl        Klaus Henatsch        Ron Howden         Roye Albrighton
Nektar 13 the whole band take a bow after the show in Karlsruhe, Germany.
Peter Pichl / Ron Howden / Roye Albrighton / Klaus Henatsch
---
News & Actualities
News & accesories
Happening
Music. Warmth people. Good songs.Delight in female voice.YOU!
Kaki King