Rebecca Pidgeon — Tough On Crime  (2005)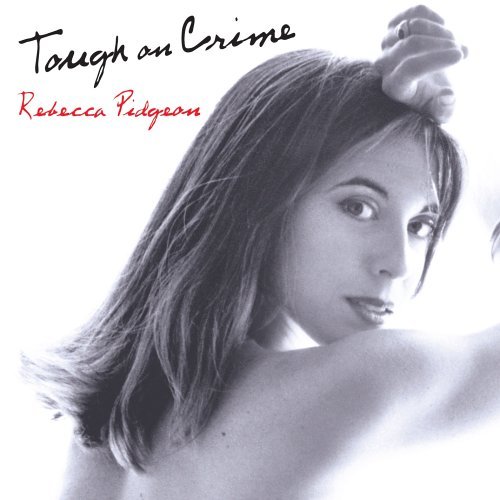 Rebecca Pidgeon ◊ Tough On Crime 
Born: October 10, 1965 in Cambridge, Massachusetts, U.S.
Location: USA
Album release: October 25, 2005
Record Label: The Lab / Fuel 2000
Runtime:    43:15
Tracklist:
01. Learn To Pray    3:38
02. Tangerine    4:36
03. Tough On Crime    3:22
04. Ordinary Blues    4:19
05. Candid Lady    4:28
06. Nasty Grey    4:20
07. Magazine    4:22
08. Cigarette    3:11
09. The Romance Of Every Day Life    3:30
10. Come Back To Sorrento    3:47
11. Army Brat (Bonus Track)    Mamet Pidgeon  3:36
All other tracks: Rebecca Pidgeon (Music & Lyrics)
Website: http://rebeccapidgeonmusic.com/
Description:
◊ Actress Rebecca Pidgeon has had a largely unsung parallel music career since the 1980s. Her fourth studio album, produced by Joni Mitchell helmer Larry Klein with an all-star lineup that includes veteran keyboard payer Billy Preston and Steely Dan's Walter Becker, has a sophisticated feel that spans subtle electronica and contemporary jazz, typified by the restrained, smooth keyboards of "Magazines" and the Steely Dan-esque feel of "Ordinary Blues" and the title track. Pidgeon's vocals, detached and coolly stylish, match her urbane lyrical observations.
Personnel:
◊ Rebecca Pidgeon (vocals, guitar)
◊ Rebecca Pidgeon; Dean Parks, Rick Boston (guitar)
◊ Larry Klein (wah-wah guitar, Wurlitzer organ, keyboards)
◊ Gabe Witcher (fiddle)
◊ Jimmie Wood (harmonica)
◊ Albert Wing (soprano saxophone, alto saxophone)
◊ Larry Goldings (organ)
◊ Billy Preston (Wurlitzer organ, keyboards)
◊ Scott Amendola, Jay Bellerose (drums, percussion)
◊ Walter Becker (guitar)
Review by Thom Jurek
◊ After three projects on Chesky Records (as well as a number of indie outings), singer/songwriter/actress Rebecca Pidgeon returned to the music scene after an eight year hiatus, within which she married David Mamet and began raising a family. Tough on Crime was produced by Larry Klein, who enlisted a number of star session players-including Walter Becker and Billy Preston, Dean Parks, Scott Amendola, and Albert Wing. While the song settings are lovely, they are simply nothing more than that. ◊ Pidgeon is a clever wordsmith and can write melody, the problem is each seems the same. One can hear traces of everyone from Joni Mitchell and latter day Rosanne Cash to Shawn Colvin, but Pidgeon's only originality is simply the articulate and ironic wordplay. She can write a line as tight as Rickie Lee Jones, but as a vocalist she simply lacks the chops. Her sound is all airy, bright, and subtley effusive. "Ordinary Blues" is the only song on this set that really stands out due to Pidgeon decision to stretch her voice from the half whispered croon that is so prevalent everywhere else on the disc, and the band gets to cooking besides. There are other moments here, but not enough of them to hold a listener's interest for any length of time. One more note: the cheesecake cover and inner photos do not help this artist's cause
RP biography:
◊ She's been recording music for more than 20 years, but acclaimed singer-songwriter Rebecca Pidgeon had a creative breakthrough as she began working on the album "Slingshot," her compelling sixth solo effort.
◊ "I reached a point where I felt I had to take it more seriously and really make a 100% commitment to it, instead of saying this is something I do that's not acting," says Pidgeon. "I finally said to myself, 'I am a singer and I'm really going to work on my voice. I'm really going to work on my playing, and I'm really going to own it'."
◊ Pidgeon does, indeed, "own it" on "Slingshot," an intoxicatingly adult pop album that explores the intricate arc of love from desire to longing to despair. "I love the concept of the word 'slingshot.' It's arresting. It's such an unusual word to have in a love song," she says of the buoyant title track: "'I'm the rock and you're the slingshot and you sling me into the stratosphere of joy'."

◊ Other standouts include the yearning "Sweet Hand of Mercy," that recalls Joan Osborne; the electric, driving "Disintegration Man," the jazzy, noir-ish "A Lonely Place," and the plaintive "Baby Please Come Home." Throughout, Pidgeon displays a newfound confidence in her songwriting and her warm, nuanced vocals.
◊ The deeply melodic "Slingshot" marks the third time Pidgeon and Grammy-winning producer Larry Klein (Joni Mitchell, Madeleine Peyroux, Herbie Hancock) have collaborated together. The two made an often intentionally quiet album that compellingly beckons the listener to lean in and pay attention. "There's a simplicity and air and space to it," she says. "That was a conscious decision."
◊ The longtime friends, who worked on 2005's "Tough On Crime" and 2008's "Behind the Velvet Curtain," took a new tack for "Slingshot." "Before we started this project, Larry said, 'We're going to get really serious with this record. That means I'm going to be honest with you about certain things that I maybe haven't been so honest with you before'," recalls Pidgeon. "I was so glad. We decided let's make the record that we think is the best possible thing we can make. We're going to be brutal about these songs. We wrote many songs and threw out lots of them."
◊ In fact, Pidgeon wrote 35 songs for "Slingshot," more than she has ever written for an album before. Working primarily with Klein and David Batteau on the "kernel of the record," Pidgeon also penned tunes with Timothy Bracy and acclaimed singer/songwriter, Freedy Johnston including the deceptively jaunty, upbeat "I Love No One." "I loved writing with Freedy," she says. "We [both] tend to like stories about being rather bleak. It seems more interesting."
◊ There were some realizations along the way. On swampy "Disintegration Man," Pidgeon and Klein set out to make "a real basic, dumb rock song," before realizing it's not as easy as it seems, Pidgeon laughs. "Since I've been learning guitar theory, I've been looking at all these rock stars who have their tattoos and drugs and I'm like, 'You don't kid me! You sat in your room as a teen for hours and hours practicing your scales'."
◊ "Slingshot" includes a co-production between Pidgeon and her husband, Pulitzer Prize-winning playwright/film director David Mamet. The aching, largely a cappella "Baby Please Come Home" showcases Pidgeon's vulnerable, intimate vocals. "It's a humbling experience writing with him, he's a master, so in terms of being an artist, I really sit at his feet," Pidgeon says of Mamet. Plus, their previous efforts had been thwarted until Pidgeon learned "when we write songs, it has to be generated from me rather than from him...I hope we write more together. It really has to be the right set up."
◊ Though the country-tinged song, written in the tradition of a lonely Hank Williams ballad is haunting, Pidgeon says no one need worry about the state of her union. "I find it difficult to write about how much I love my husband," she says. "I pull from other aspects of my life, from other people's stories, from books, from other songs that resonate with me, because it is very difficult to write the perfect love song about being happy."
◊ The lone cover on the set is a stirring, poignant version of Warren Zevon's "Searching For A Heart." The chord progression first attracted Pidgeon. "Then I was drawn in by the lyrics. It's so enigmatic," she says. "It sounds like it's so sparse, but it's so complex. Every time I sing the song, I get something different from what he's talking about."
◊ Throughout the summer and fall, Pidgeon has headlined Wine, Women & Song, a series of concerts that take place at female-run vineyards coordinated by wine company Women of the Vine. "These women are so entrepreneurial. They're artists," she says. "The concerts with the wine tastings have been so very convivial, so lovely." The WWS dates will extend into 2012.
◊ Pidgeon, who has also shared stages with such artists as Aimee Mann, Madeleine Peyroux, Jeffrey Gaines, and Peter Himmelman, joined founders Willie Nelson, John Mellencamp and Neil Young at the 2011 edition of Farm Aid, Aug. 13.
◊ The singer looks forward to performing selections from "Slingshot" live, though as mother of a 12-year and 16-year old, she limits her time away from her Los Angeles home. "I [tour] in bursts. I do it for a week or two and then I have to get back," she says. "I'm not gone for six months."
◊ Plus, the Royal Academy of Dramatic Arts graduate continues to juggle her musical efforts with her extremely successful acting career. She recently appeared in "Red," alongside Bruce Willis and Morgan Freeman. Up next is a film about record producer Phil Spector and his recent murder trial. Pidgeon will star with Al Pacino in the film directed and written by Mamet.
Credits:
◊ Scott Amendola Drums, Percussion
◊ Walter Becker Guitar
◊ Jay Bellerose Drums, Percussion
◊ Rick Boston Guitar
◊ Larry Goldings Organ
◊ Bernie Grundman Mastering
◊ Helix Hadar Engineer, Mixing
◊ Larry Klein Audio Production, Bass, Keyboards, Organ (Hammond), Producer, Wah Wah Guitar, Wurlitzer
◊ David Mamet Composer
◊ Dean Parks Guitar
◊ Cindi Peters Production Coordination
◊ Rebecca Pidgeon Compilation, Composer, Guitar, Vocals
◊ Billy Preston Keyboards, Organ (Hammond), Wurlitzer
◊ Chris Rakestraw Assistant
◊ Albert Wing Sax (Alto), Sax (Soprano)
◊ Gabe Witcher Fiddle
◊ Jimmie Wood Harmonica
The Graham Weekly Album Review #1422: Rebecca Pidgeon: Tough on Crime
by George Graham
(The Lab Records 302 061 512 As broadcast on WVIA-FM 11/16/2005)
http://www.georgegraham.com/reviews/pidgeon.html
Discography:
◊ The Raven (1994)
◊ The New York Girl's Club (1996)
◊ The Four Marys (1998)
◊ Tough on Crime (2005)
◊ Behind the Velvet Curtain (2008)
◊ Slingshot (2012)
Personal life:
◊ Pidgeon is married to the American writer and director David Mamet. She met Mamet while acting in his play Speed-the-Plow during its run at the National Theatre, London. Though he was married at the time to actress Lindsay Crouse, Mamet began a relationship with Pidgeon. In 1990, Mamet divorced Crouse and he married Pidgeon in 1991. She and Mamet have two children, Clara and Noah. Pidgeon, who was born to a non-practicing Christian family, has converted to Mamet's Jewish faith.
 ◊ Rebecca Pidgeon at the premiere of Redbelt at the 2008 Tribeca Film Festival. Author: David Shankbone, April 2008.
Rebecca Pidgeon — Tough On Crime  (2005)
---
NEWS
8.7.2019
Peter Cat Recording Co.
6.7.2019
Jesca Hoop — Stonechild
1.7.2019
Outer Spaces — Gazing Globe
ALBUM COVERS X.
Tais Awards & Harvest Prize
Za Zelenou liškou 140 00 Praha 4, CZE
+420608841540