Sharon Isbin & Friends – Guitar Passions (2011)
     Sharon Isbin and Friends – Guitar Passions
Born: August 7, 1956 in St. Louis Park, Minnesota
Location: NEW YORK, New York, US
Album release: August 29, 2011
Record Label: Sony Classical 88697-84219-2 / SONY MASTERWORKS
Genre: Acoustic / Classical / Latin
Website: http://www.sharonisbin.com/index.html
MySpace: http://www.myspace.com/sharonisbinclassicalguitarist
Tracklist:
01 – Porro
02 – Sonidos de Aquel Dia
03 – Adagio
04 – Asturias
05 – Allegro
06 – Dreamboat Annie
07 – Alfonsina Y El Mar
08 – Chovendo Na Roseira
09 – Carinhoso
10 – O Presidente
11 – La Catedral
11a) - Andante Religioso
11b) – Allegro Solemne
Guests:
Steve Vai, guitar
Stanley Jordan, guitar
Nancy Wilson (Heart), guitar/vocals
Steve Morse, guitar
Romero Lubambo, guitar
Paul Winter, soprano saxophone
Gaudencio Thiago de Mello, organic percussion
Rosa Passos, vocals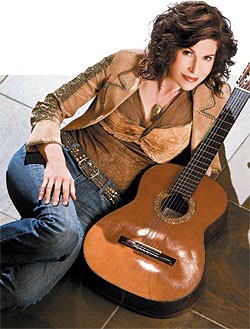 Author: Takehiko Tokiwa / Interviewed by Pete Brown in: Original page: http://www.vintageguitar.com/3890/sharon-isbin/
Notes for tracks:
01.) Porro, Gentil Montaña/arr. Gustavo Colina - Isbin
02.) Sonidos de aquel dia, Quique Sinesi/arr. Stanley Jordan -
      Isbin & Jordan
03.) 'Adagio' from Concierto de Aranjuez, Joaquin Rodrigo/arr.
      Laurindo Almeida - Isbin, Steve Morse, Romero Lubambo
04.) Asturias, Isaac Albéniz/Transcribed by Andrés Segovia - Isbin
05.) Allegro, Agustín Barrios Mangoré/arr. Steve Vai - Isbin & Vai
06.) Dreamboat Annie, Anne Wilson and Nancy Wilson (Heart)/arr.
      Nancy Wilson - Isbin & Nancy Wilson
07.) Alfonsina y el Mar, Ariel Ramírez/arr. Jorge Cardoso - Isbin
08.) Chovendo na Roseira, Antonio Carlos Jobim/arr. Carlos
      Barbosa-Lima, Romero Lubambo - Isbin & Lubambo
09.) Carinhoso, Alfredo Vianna (Pixinguinha)/gtr. accomp. arr. Rosa Passos
      gtr. solo arr. Carlos Barbosa-Lima - Isbin/Passos/Thiago de Mello
10.) O Presidente, Gaudencio Thiago de Mello/arr. Daniel Wolff -
      Isbin, Paul Winter, Thiago de Mello
La Catedral, Agustín Barrios Mangoré - Isbin
      Andante religioso
      Allegro solemne

Shortly Press:
The pre-eminent guitarist of our time. 
  Boston Magazine
The Monet of the classical guitar ... a master colorist. 
  Atlanta Journal
Stupendous, faultless, finer even than Segovia. 
  American Record Guide
The high priestess of the guitar. 
  Star Tribune (Minneapolis)
"Grammy Award-winning guitarist Sharon Isbin is truly a master of this genre ... Her new album elevates classical guitar to a whole new level. She masterfully captures what's unique about each performer's personality and style and melds it into a new guitarified creation."
  Guitar World
"Isbin's 'Journey to the New World' was a brilliant recapitulation of the flow of ideas between English and US folk and classical modes; here, the gifted guitarist turns her attention to the Spanish and Latin American tradition, with a series of dazzling accounts."
  The Independent (UK)
"Guitar Passions is not only a fun time with respected friends, it is a beautiful collection of guitar tracks."
  The Morton Report
"Spectacular music ... absolutely transcendent ... Sharon Isbin and her friends not only play with skill, they imbue that work with passion and excitement."
  Seattle Post-Intelligencer
"On top of all this is Isbin's sheer musicality: she has the indefinable ability, common to great performers, to combine diverse material and diverse musical forces, and make them all her own. A sterling example of the crossover classical guitar album."
  AllMusic
 
Music Review:
By Jack Goodstein, BLOGCRITICS.ORG
Equally at home whether she's playing The Animals' "The House of the Rising Sun" as part of the "Joan Baez Suite" or the Antonio Vivaldi composition "Concerto in D Major," celebrated classical guitar virtuoso Sharon Isbin has never limited herself to any one particular repertoire, and that's a lucky thing for music lovers of all tastes. Her eclecticism has produced an awful lot of spectacular music that might never otherwise have seen the light of day, and her latest effort, Guitar Passions, in which she joins with some of her guitar playing buddies in a kind of homage to the instrument, is just one more joyful expression of the woman's enviable range. It is a recording, she explains in the liner notes, in which "I pay tribute to my guitar heroes, artists that I admire from the classical, rock and jazz worlds ... It is our shared passion for the guitar and for musical discovery that brings us together."
Joining her on various tracks in this tribute to the guitar are Stanley Jordan, Steve Morse, Romero Lubambo, Nancy Wilson, Steve Vai, Rosa Passos, Guadencio Thiago de Mello and Paul Winter. Sometimes in collaboration, sometimes on her own, Isbin offers twelve tracks inspired by South American and Spanish roots, seven of which are premieres. All in all, it is a collection of a dozen pieces, each one a gem.
That said, if one has to pick out favorites, the world premiere of Laurindo Almeida's arrangement of the absolutely transcendent "Adagio" from what is probably the greatest piece for the classical guitar and certainly the best known, Joaquín Rodrigo's "Concierto de Aranjuez," played by Isbin, Lubambo and Morse, stands out. It is a fusion of classical, jazz and a pinch of rock that is indeed a tribute to the great composer.
Isbin's acclaimed lyricism is on display in the remake of the Heart/Wilson sisters' "Dreamboat Annie," with a vocal by Nancy, as well as on the two pieces from "La Catedral," and in Jorge Cardoso's soulful guitar setting of "Alphonsina y el Mar." Andrés Segovia's transcription of Isaac Albéniz's "Asturias," with its flamenco flavors gives her an opportunity to showcase the dynamic power of her playing.
She and Jordan join in a premiere of a two-part guitar setting of "Sonidos de aquel dia," a solo guitar piece by Quique Sinesi, an Argentinian composer. De Mello's jaunty uptempo "O Presidente" has a folk quality which she says "evokes the colorful sounds of the rain forest." She is joined on the track by Paul Winter on soprano sax and de Mello's organic percussion. Organic percussion refers to instruments de Mello has fashioned out of materials found in the jungle and is also featured on "Carinhoso." Singer/guitarist Rosa Passos, who does the vocal parts, also wrote the guitar accompaniment. The guitar solos which open and close the song were arranged by Carlos Barbosa-Lima.
Steve Vai improvises on Paraguayan composer Augustin Barrios Mangoré's "Allegro," and Romero Lubambo collaborates on adapting and performing Barbosa-Lima's arrangement of Antonio Carlos Jobim's "Chovendo na Roseira."
Guitar Passions is an album filled with the work of some of the finest composers and arrangers for the instrument. Sharon Isbin and her friends not only play with skill, they imbue that work with passion and excitement. This is an album that won't grow old.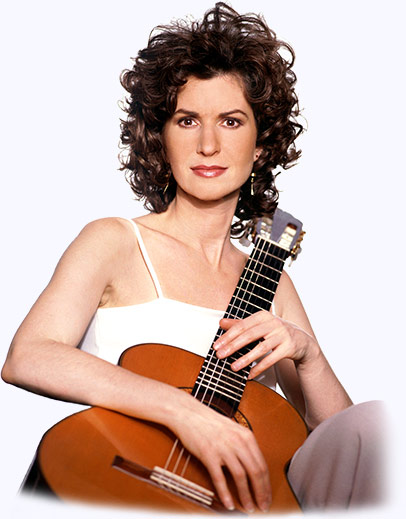 Sharon Isbin received a 2010 GRAMMY® Award for Best Instrumental Soloist Performance (without orchestra) for her CD Journey to the New World and she is the first guitarist in 43 years to receive a 2nd classical GRAMMY®.
Tell everyone to get New Jersey News from WWW.NJTODAY.NET
December 29, 2008 (0:00)
Canon EOS-1Ds Mark III
---
News & Actualities
News & accesories
Happening
Music. Warmth people. Good songs.Delight in female voice.YOU!
Kaki King